Advertising Disclosures for PolymerClayer.com
PolymerClayer.com (www.polymerclayer.com) accepts advertising and other forms of compensation. If we receive free products from advertisers, vendors, stores or manufacturers we will always state that on any product reviews (we're really not gloating). We'll always ask ourselves "Would this product/service be worth it if I had to pay full price for it?" before we post an opinion or recommendation.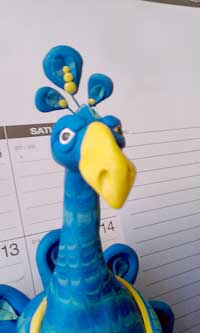 Any reviews, opinions or endorsements are those of the author(s) alone. They're based on personal experience and research. Any product claims, statistics, quotes or other representations about specific products or services should be verified by the manufacturer or provider.
We will try to make any information presented on this web site as true, accurate and relevant as possible. If we make you crack a smile also that won't be a bad thing either.
Ezoic, Google and Other Advertisers, Sponsors and Affiliates
Third party ads are hosted on this website through Ezoic and sometimes through the Google Ads network.
"Ads by Google" that you see on this site are based on the particular page that you see the ad on. The magic Google algorithm is responsible for the placement of those ads. We're not responsible if the same company's ad appears on the same page as one of our product reviews or ratings.
From time to time high quality producers of products and services approach us and ask to advertise on this site. We sincerely appreciate their recognition and support.
We also participate in various affiliate programs where advertisers present products to you that are related to polymer claying. When you click from this website to the advertiser's site and buy something within a specified time period, we get a small commission.
About Recommendations Found on PolymerClayer.com
Only products or services that we believe are of good quality and a good value will get recommendations. Our opinions are based on personal experience and lots of research. We will cite people and websites that we consider reputable authorities from time to time.  Occasionally we will receive a small commission for a recommendation, like when Google places an ad on a page where we have a review. But most of our recommendations on PolymerClayer.com receive no compensation at all. We're simply passing on our observations and experiences and hope that you'll find them useful.
Your Trust is Important to Us
We'll always try to present high grade information. We won't accept advertising from companies which we feel do not have quality products and services. Nor will we accept ads from affiliates and networks that do not meet our rather picky standards. We've turned down such offers in the past and will continue to do so in the future.
Thanks for visiting PolymerClayer.com