"Polymer Clay Gemstones- The Art of Deception" by Kim Schlinke & Randee M. Ketzel
-----
Live Video Interview on April 5, 2014

---
"Polymer Clay Gemstones - The Art of Deception" artists and authors Kim Schlinke and Randee M. Ketzel chatted online with myself and three other polymer artists about their book which contains 20 projects to recreate stones and other natural materials using polymer clays like Sculpey Premo. We were all curious about the genesis of their best selling faux mystery story/how-to techniques guide and about their life as thriving art entrepreneurs.
Your Polymer Clay Gemstones Questions Answered Including: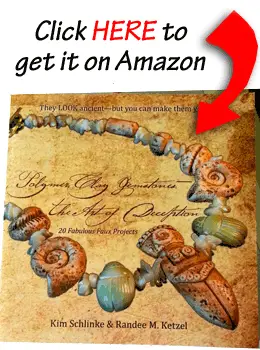 What's their favorite technique?
How did the authors choose which polymer clay projects to include?
How did they discover polymer clay?
How did they come up with the main character's names?
Do Kim and Randee reveal who's the real Peele?
What's the most important thing to do if you want to publish a book?
And Kim and Randee clued us in on the answer to the biggest mystery of all...when's the sequel coming?
Special Guests Artists! Joey Barnes, Andrea Paradiso, and Nora Pero and I joined Randee and Kim in the hour long video discussion. Because the discussion was so wide-ranging I decided to transcribe all 6,200+ words of the conference call so that you can get a feeling for the conversation. Its spread out over 2 pages on this website. To help you navigate I've included links to the most commonly asked questions above. 
---
Kim: I'm Kim Schlinke and its fantastic to be here. And thank you Nancy for putting this together. Randee?
Randee: I'm Randee Ketzel, I'm co-author with Kim of "Polymer Clay Gemstones - the Art of Deception". It was an idea that was in our brains for a very long time before it ever got born. And we are thrilled to be here today. We'd love to field any questions about the book and talk about how it came to be.
Shall we start when Kim and I met?
Everyone: YES!
Randee: You tell that story Kim.
Kim: Like all clayers, we like getting our clay on sale. So I had gone to Michaels one morning and loaded up my little arm basket. And I'm standing in behind this gal and she also has a big load of clay in her basket. So we have a nice chat about what we're going to do with our different clays. Well, fast forward a few weeks and I turn up at the Austin Polymer Clay Guild maybe for my first or 2nd time. Randee and I see each other and we spent I don't know how long trying to figure out where we knew each other from. And then it was finally like "Oh, in line at Michael's!"
Randee: We were the two clay hoarders. Between the two of us I think we cleared out the entire section...of Premo at least.
Kim: Pretty much! And we've been best clay-mates ever since.
Joey: How long ago was that?
Randee: That was in 2007? Kim, does that sound about right to you?
Kim: I think so.
How Did You Discover Polymer Clay?
Randee: I joined the guild in 2007. I started working in polymer in 2005. And I think its about the time that you started as well.
Kim: Yes. I had been doing clay, muddling along on my own for a while. My guilty pleasure used to be the Carol Duvall Show. And I'd seen Donna Kato on there a couple of times. And I was like, "Wow, that looks pretty interesting!" And so I got a pasta machine and then the rest is history as they say.
Randee: You know, oddly enough I totally missed the whole Carol Duvall/Donna Kato thing. I never saw her when the show was actually on. It was only later that I went back on the web and saw old clips of them and thought..."That is SO cool!" I can't believe I missed all of that.
Kim: It was a neat show. And I dabbled in a lot of things just from watching that medium. But I pretty much have stuck with clay for quite a while.
Randee: Yes. Same here.
Joey?: Randee, how did you get started?
Randee: Well, that was pure happenstance. I started my professional life as a jeweler in Florida and in Texas. So I actually did contract work for other jewelers in the cities where I worked. So, for example, if you took a piece of jewelry into a Kays or Zales or something like that, they sent it to my shop to be repaired, to have the stones set, to have the rings sized and have the chains repaired. And that's what I did for years and years.
When Eric and I moved to Texas, and we decided to get married and have children, metalwork and pregnancy does not mix...at all. Its just filthy, its dangerous, you don't want to be around it if you're pregnant. So I dropped it entirely.
But I always wanted to do creative stuff and a few years later I started kind of playing with Cernit, which was the first clay that I could get a hold of. I didn't think much of it at the time. But when my daughter was very young, she was in the girl scouts, and we had a request for a fund-raiser. A little girl here in Austin needed a heart transplant. She had been born with a defective heart and she'd been on pacemakers and various machines and her parents resources were totally exhausted.
But the heart transplant had become a possibility. so they sent out a call to all of the scouts and all of the service organizations asking us if we could help raise money for this child. And a friend of mine here in the neighborhood was working in polymer clay and she said, "Have you ever tried this stuff?" And I said "Oh yeah, I've looked at it, it's not very interesting."
Everyone: <Laughter>
Randee: So my friend says, "Why don't you see what you can do with this?" And after about a week I was completely hooked. I mean this was the coolest material that I'd ever worked with in my life. Long story short, we ended up making hundreds of pendants in the shape of an eternity symbol for this little girl. We sold thousands of dollars worth. And I was in love with polymer clay from that moment on. So that's how I got started.
Randee on our audio difficulties: It will be like a foreign film, we'll just read the captions.
Randee: ...At any rate, what Kim and I discovered as we got to know each other more and more at the Austin Polymer Clay guild meetings was that we both had a HUGE interest in history and in ancient jewelry. And in reproducing natural materials, so it just sort of evolved naturally.
I had run across Tory Hugh's book (Polymer: The Chameleon Clay) on doing faux techniques and that immediately appealed to me. Although I've dabbled with a lot of different techniques, that's my favorite.
How did the main characters in Polymer Clay Gemstones get their names?
Joey: The minute that I heard that this book was coming out I was excited about being able to get into the heads of you all to look at the techniques that you do.
And when I picked it up and realized that not only did it present all these fabulous techniques, but it also presented it in a MUCH different form from the way polymer clay books are normally written. And you had this story, the mystery.
So what I'd like to know is, how did you come up with these people's names. Now I'm a native Texan, so I know Nosy Parker. But I don't know about all the rest of them, like Zylphia. And I want to know how you came up with those.
And which one of you is Peele?
Randee: Welllll...here's the thing...Kim, do you want to field that one?
Kim: The truth of the matter is, we could tell you, but then we'd have to kill you.
Randee: It's going to have to remain a mystery.
But I will tell you that the name Zylphia comes from a lot of the research on the history of Austin as this book was evolving. There actually was a woman magician who headlined downtown back in the 1880's or the 1900's. Now that wasn't her name, but she referenced a friend of hers named Zylphia. And I thought that that was the coolest name. And it sounds like Zilker Park in Austin which is one of my favorite parks in all of Texas. And that's where the name Zylphia came from.
Joey: And shouldn't it be shared that 'Waterloo' is Austin? For those people out in the rest of the big world?
Randee: Yes
Kim: That was the original name of Austin.
Randee: We did play fast and loose with a few facts. Obviously, back during the time that this was set, there were not 2 million bats living under the Congress Avenue bridge as there are today.
Joey: How do you know?
Randee: Well that's true, I don't...
Joey: Because the bridge wasn't there then!
Well, it's a great story and its a really great way to present the information. I think. Again, there are lots of books that are written, and to come up with a new and differnt way to do it was really important I thought in the library of polymer clay.
Randee: Well, thank you!
Kim: I have to give Randee all the credit for this story. I'm more the technical person. She's the real writer in our duo. She put together the story. When she presented the idea of doing it this way I was so excited. It was so completely different.
Most polymer books offer much the same. 'Here's the directions, blah, blah...' It really gives it our own, Randee's own little spin on it. We've had a couple of people who didn't like the story on the Amazon reviews, but for the most part people like it. I love how she was able to tie tips and tricks into the story. It gave it a sense of continuity.
Randee: One of the reasons we decided to incorporate a story into this is that I think it reflects the nature of polymer clay. Polymer cross-references so many different disciplines. And it takes skills, and materials and techniques from so many other art forms and incorporates them all. And so to me that's what polymer actually is.
Page 2 of the Video Interview for Polymer Clay Gemstones
---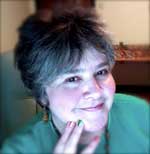 Andrea Paradiso has turned her art fantasy into real work and opened her own Etsy store Andrea's Real Fantasy for OOAK Jewelry and Sculpture   She's recently had a piece accepted for a juried show at Gallery 4 (  ) in Pixburgh (it's how they pronounce it here). It will run through April 26th.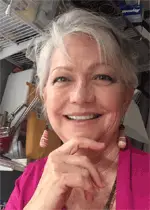 Joey Barnes credits her mother as her source of creative DNA. Her first successful artistic creation was in the third grade when she won first place in flower arranging. Now Joey's principle focus is the creation of vessels and purses, figures and jewelry made primarily from polymer clay. She's part of a group of polymer artists called Meraki Artists, Joey's work can be seen at the Montrose Art Market and FirstSaturday Arts Market beginning in late Spring 2014.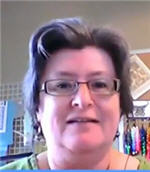 Nora Pero creates with polymer clay whenever she can break away from her demanding schedule as a Respiratory Therapist. She is also an awesome beading teacher. Check out her Facebook page to see her latest pieces or to take a class.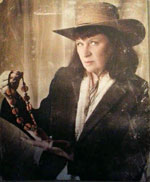 Kim Schlinke claims that she's been making things since she was hatched. Starting with doll clothes made from her mother's sewing scraps. She'd dabbled in many artist mediums including painting, fiber arts, mixed media, woodworking and interior decorating. She uses her talents daily in her job as a Sample Maker and Production Coordinator for local fashion designers in Texas. 
She cranked her first clay in 2002 after watching Donna Kato on the Carol Duvall Show and she was hooked. Polymer clay became her passion. Her polymer clay buttons are featured at Gauge Knits and Fabriker in Austin, Texas. She is currently serving as vice-president of the Austin Polymer Clay Guild.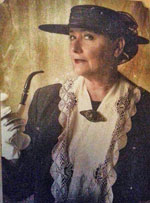 Randee M. Ketzel was once a bench jeweler and gave it up when motherhood's demands over ruled the lure of metalworking fumes. She was ambushed by polymer clay in a 'decent middle age' and now lives in the rarified atmosphere of toasting polymer.
She's been featured on Polymer Clay Daily, in national magazines and in Marie Segal's book The Polymer Clay Artist's Guide. 
---
What Would You Like to Ask Kim and Randee?