It's Polymer Clay Art Inspiration Day!
It's another Polymer Clay Art Inspiration Day (otherwise known as Friday)! Launch yourself into another artist project weekend with a bit of glitter thrown in. Each week I present quotations to encourage and empower you (and me) melded with incredible polymer artworks excavated from the depths of the internet.
Why? Because sometimes we're all just tired after a long week of busy-ness and our creative souls need a little boost.  
---
Stop Trying so Hard...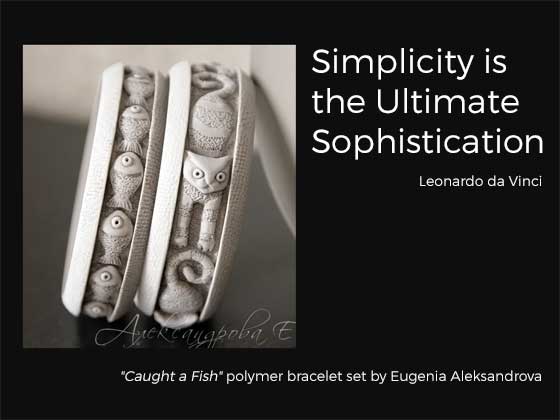 June 24, 2016 That's what this bracelet set by Eugenia Aleksandrova is called "Caught a Fish" (according to Google translate) says to me.
I allow myself to believe that my 'creative' time is limited and so I want to hurry and cram as much as possible into my work. As a result I find myself getting caught up in fussy little details that if I were honest, don't add much. 
Eugenia must have been in some Russian Zen zone when she made these. They're made with gray polymer and simple repeating shapes and dot patterns. I love the meticulous craftsmanship and care that's been lavished on the strong channel edges. And I think that the only finish might be some antiquing with a bit of dark paint that's been mostly wiped away.
These simple fishes and kitties remind me to take a deep breath and give myself permission to go slow and simple. And stop trying so hard.
---
I Was Going to Hide This...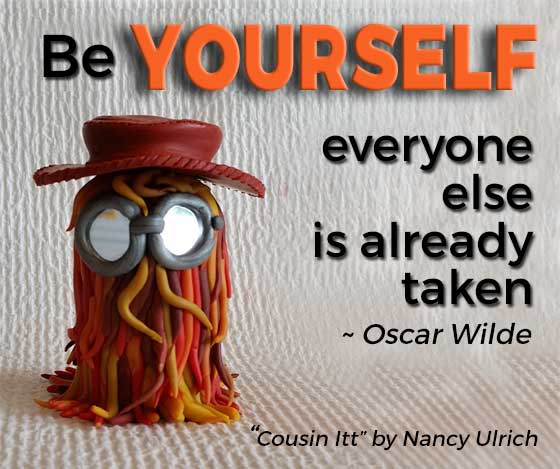 June 17, 2016 This is an unusual Friday post for me because it's not made by a spectacularly talented and famous polymer clay artist. It's just mine. But I do hope that you'll be inspired to be yourself with your art this weekend.
"Cousin Itt" was going to get quietly shoved in a box with the rest of the Bottles of Hope to go to Moore's Cancer Center as part of the San Diego Polymer Clay Guild's community outreach efforts.
I was a bit embarrassed by it. It's rough. I made it quickly just to get it done from color scraps left over from making ColorMixr recipe tiles. And Itt's silly.
But the more that I looked at it, the more that I realized that I don't have enough FUN with my polymer clay. And this was fun to make. 
If someone thinks this little sculpture's a bit rough? Too bad. 
It is me. I'm not going to hide it or my quirks away in a box anymore.
Take your true, silly, rough self out of the box that you've hidden it in and let Itt be.
---
Work on Your Dream Projects
June 3, 2016 Believing in your dreams is one thing, building them is another. It doesn't take much to make something beautiful. Take a few minutes this weekend to make a cane. Or pick a few color packages from that drawer and condition them. Start. Do it tonight. Following your dreams and your muse is only a matter of doing one small thing after another.
Yeah. This one I should read to myself over and over and over again.
Kathy Davis' "Meadow Fae" was made for sale. And she almost didn't let her creation go to its new home. It's not hard to figure out why Kathy felt that way. Just look at that face! You can also see this cute fairy in Lisa Pavelka's "Elegant Gifts in Polymer Clay."
If you ever get a chance to take a class with Kathy, grab it. I've been privileged to attend a few of her demos and one class while I was still living near the Orange County Polymer Clay Guild. She's as good a teacher as she is a sculptor. Track her latest creations and class offerings on Kathy's Facebook page. 
---
Share Yourself Through Your Art
May 27, 2016  Use this weekend to connect with people through your art. It's a wonderful way to share yourself with friends, family and the world. And for those in the US celebrating Memorial Day making something special for a veteran or in their memory will make this time special. Besides, mooshing clay into the shape that's in your head is great therapy for a long, stressful week. 
Doreen Kassel has been one of my favorite polymer artists for years. Each one of her pieces speaks with a unique voice. I love her bold use of color. And her eccentric characters.
Go visit her website at http://www.doreenkassel.com/ or say hello on her Facebook page to see her latest work.
---
Just Jump Into It This Weekend!
May 20, 2016  I don't know whether I saw Ellen's "Otter with Mechanical Wings" or Kurt Vonnegut's quote first. But both speak of a need to just strap on your creativity and take a leap of faith.
I'm the type of person that doesn't feel like I have the time to do anything unless I know in advance that it will be a fabulous success. So all too often I end up analyzing myself into paralysis and fussing my time away. And that's not good for my creativity, productivity, wallet or sanity. 
So if you're at all like me, I highly encourage you to link over to EllenJewettSculpture.com for your inspiration this weekend. And please, please, don't think that you have to sculpt as well as she does. Strap on your own wings and take a leap!
"Otter" was spotted and archived by me several years ago. I recall that the original description of her works that I saw said that "Otter" was at least partly polymer. There's little indication on her website as to the materials she's using now. She mentions on her About page that she is not using any clays, glazes, paints or other art materials with known toxic properties. 
No matter what her sculptures are now made from, they are more than worth the time you spend viewing them. And for those that cannot afford one of her sculpts, link on over to the Ellen Jewett Print Shop and pick up some daily inspiration for your studio space. Go check them out!
---
Every Bloom Starts With Just One Leaf!
May 13, 2013 Today's polymer clay art inspiration is for everyone who feels like life's been plucking all your blossoms lately.

Your Spring is coming!

This week, I've been feeling ground down by life's demands. My attempts to move forward towards greater abundance and creativity have felt feeble and small. And even though I've been in San Diego all winter, I feel like my spirit's still shivering in the cold and dark.
This "2 leaf pendant" series piece by artist Grace Stokes is the perfect antidote to my blues.
The sterling wire is graceful. The polymer's blue tones are giving way to the bright green growth of spring. And there's a hint of the rich orange-red tones of summer's harvests.
Please visit her website Grace Stokes Designs to see more of her wonderful polymer wearables and art.
---
Use Polymer Clay Art to Find Your Inner Unicorn

Unicorn Sculpture "Palinurus" by Quequinox Art (aka Janine Haq)
May 7, 2016 Janine sculpts polymer clay over an armature of wire and aluminum foil. Then she adds other ingredients like inset glass eyes, fur, lamb's wool, acrylic and a generous dollop of magic realism (which she slathers on generously). 
More photos of this one of a kind sculptural masterpiece can be found on Janine Haq's Etsy store along with others in her wondrous menagerie.
---
What did this polymer clay art make you feel?