Glow In The Dark Polymer Clays - Sculpey III or Fimo Effects Baking Instructions and User Tips


Glow in the Dark polymer clays like Polyform's Sculpey III and Fimo Effects bring out the kid in me. Here's easy baking instructions, project ideas, sculpting and coloring tips. So whether you buy it in a modeling clay kit sampler or by itself you can create something fun with this slightly goofy polyclay.
These luminescent clays are usually used by kids and crafters looking for quick Halloween or Christmas decorations. But don't dismiss this clay if you've got artistic aspirations. In talented hands, these novelty modeling materials can be fashioned into seriously beautiful and intricate works of art.
To the right is "Spektrum", a fine art sculpture mounted on stone created by CityZenKane from the UK (not to be confused with the Ford and Forlano team's City Zen Cane - thanks for correcting me Steve!). The London street artist has created this wall piece using this 'kids clay'. Click the image for his YouTube channel to view more examples of his glow-in-the-dark polymer clay creations.
Does it really glow? Absolutely. Mold it, shape it and bake it. Then expose it to either sunlight or a strong flashlight for several minutes and it really glows when the lights go out. 
How long does it glow? I held a block of Sculpey Glow in the Dark under a strong flashlight for 30 seconds and it glowed for about 5 minutes in a darkened room. The Fimo held its light for the same amount of time.
I also compared the brightness or luminescence of the Fimo and Sculpey brands and they're pretty much the same.
Glow In The Dark Baking Instructions
How long in the oven? Cure this clay for 15 minutes for every 1/4 inch thickness. Never leave your kids alone with the oven and ALWAYS set a loud timer.
Watch Out for Burning Clay!  The glowing colors are fairly light colored clays. If you have trouble with them scorching you can either cover protruding edges like ears and noses with a bit of aluminum foil. Or you can preheat your oven to about 20 degrees below the usual setting. Put your pieces into the oven for about ten minutes. At that time raise the oven temp to the correct setting and set your timer. Check out more tips for baking for this and other clay types.
Temperature Setting? 275F (130C)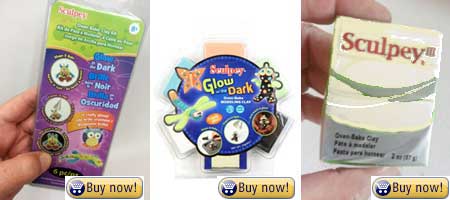 How Many Colors? There's only 4 colors in both of the Polyform modeling kit sampler packs that glow; greenish-off white, orange, blue, green. The other two colors are black and white. The Fimo Effects glow in the dark clay color is very similar to the putty color of the Sculpey III.
Packaging: 1 ounce in the Polyform sampler packs, 2 ounces if you buy Standard glowing Sculpey III package. The Fimo also comes in 2 oz (56 grams).

What's the Price? If you buy glow-in-the-dark sculpey in the sample pack, it costs about $2/ounce. If you buy the 2 oz Sculpey III block you'll pay less, about  $1/oz. Check out the glow in the dark clay for sale on Amazon. The 2 ounce Fimo is just slightly more expensive. I wouldn't consider the price difference to be a significant factor unless you're making a whole haunted house worth of ghosts.
Sculpey Glow In The Dark User Review and Tips
Pros: The Sculpey product is great for kids projects - especially Halloween and Christmas or Hanukkah crafts. They make great glowing stars and ghosts. I especially like to make spooky glowing eyes that continue to shine after the lights go out. It's easy to manipulate, very good for hands that lack a lot of strength. It also holds molded details very well. For more details check out my Sculpey III review page.
Cons: The Polyform product is fairly brittle. Objects made of this material often break when dropped. Because its soft and sticky in its unbaked state it can be hard to keep clean of hair and dirt. These qualities also make this medium a magnet for fingerprint impressions. 
The Fimo Effects Glow in the Dark polymer clay is a bit stiffer than its Polyform counterpart. It's not quite as suitable for children's crafts or for those who lack hand strength. However, if you're looking for a clay that is less brittle, easier to keep clean while you're working with it and you want to prevent it from collecting 'makers marks' then choose the Fimo brand. 
Create more colors by mixing different hues from the Sculpey modeling clay kit sampler together. Also try adding alcohol inks (I happen to like Pinata inks) or add glow in the dark powders - click the images above for more info and sale prices from Amazon). You can either mix the inclusions into the polymer clay, apply them on top as a surface treatment or combine them with a bit of liquid clay and paint them on.
---
Glow In The Dark Sculpey III or Fimo Effects - What's Keeping You In The Dark?