Should You Buy The Polymer Clay Dream Machine by Artway?
The Artway polymer clay DREAM Machine sold by Polymer Clay Express has a well deserved reputation as the Ferrari of polymer clay pasta machines. It's meticulously crafted and manufactured with many features specifically adapted to conditioning polymer clay. It's also got a high price tag. The basic hand cranked model costs 6 times what you'll pay for an Atlas. Buying this is an INVESTMENT in both money and time. Purchase one if you're serious about your art.
My Artway Dream Machine Polymer Clay Conditioning Tool Review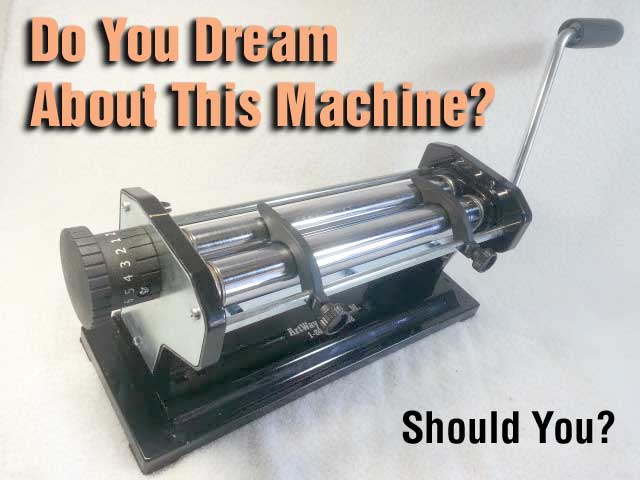 Rated: 4.5 out of 5 (just my humble opinion)
Price: HIGH, $345 USD
Maximum sheet width: 9.25 inches (23.5 cm)
Has a Motor? Yes. $525
Availability: Limited. Single supplier - Polymer Clay Express
RECOMMENDATION: This is the machine of choice for professional production work.
I have an ArtWay polymer clay D.R.E.A.M. machine and I love it. But I've also got to acknowledge that if I hadn't won this pricey tool from Polymer Clay Express in a Sandy Camp 'Opportunity Drawing' I probably would not have bought it for myself. But it would sure be on my Christmas list every year!
UPDATE: I just bought the DREAM Machine motor! It cost me $557 (including shipping). I LOVE it. I'll be writing more about it later. But one thing that may not be included with your motor when you order it is a screw to attach the motor to the frame of the sheeting machine.
The screw can be ordered separately. Or you can just go to your local hardware store and ask for a "M4 - .7X - 12mm" screw.
The screw is not absolutely necessary, but it eliminates a slight wiggle that I spotted when the motor was turned on or off. With it you don't have to worry about the motor falling off accidentally if you have to move it. Also I think that reducing any 'play' in motors and machinery makes them last longer.
What I Love About the Artway Dream Machine
Ron - he's the trouble-shooter and fix-it guy. Incredibly patient with newbies and people who have done extremely stupid things with their machines.
It's easy to clean. It only takes about 2 minutes to do both blades. To clean them, don't take out the side bolts like is shown in the instructions that come with the machine. Save that method for the occasional major cleanout. There's a quicker, easier, everyday way. Play the short video below to find out how to clean your polymer clay dream machine in two minutes or less.
Make bigger pieces with fewer joins. At 9.25 inches they can extrude a sheet that's almost twice the width of the Atlas. You'll do less tedious smoothing to hide joins between sheets for larger projects.
Easy width adjusting The adjusters allow you to set how wide you want a sheet to be. Or just move them out of the way to use the entire roller surface area. You can even process three sheets separately, at once! You'll need the extra tray ($22)to do this. Some clayers keep the guides set up so that they divide the rollers in thirds to keep light colors separated from darks and metallics. But the blades are so easy to clean that I don't bother with that.
10 thickness settings ranging from almost see-thru to a 1/6th of an inch (see the settings chart at the bottom of this page). The number 2 Dream Machine setting is roughly equal to the widest setting on the Atlas. But remember, each pasta machine will vary in the thickness of the sheets that it can extrude. See this link for a better explanation at Polymer Clay Daily. 
Steel Rollers produce flatter sheets longer - Most polymer clay machines have softer aluminum ones. The DREAM Machine ones are less likely to warp, bend or get scratched. Your polymer sheets will come out smooth and unmarked for years.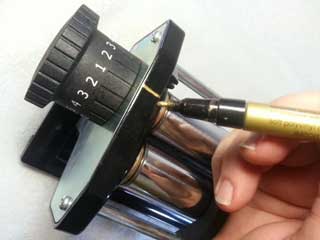 Two-Way Thickness Dial The dial is unique among pasta machines. You can rotate it either way to adjust the settings. That's good for making adjustments with either hand or in cramped quarters.
One thing that I don't like is that there's no mark on the top of the machine that indicates where the wheel is pointing to. You have to crane your neck to see it above the knob, usually upside down. Rather annoying. So I just marked the knob position with a gold pen on top of the machine.
Crank It Baby! The handle never falls out and the rotating action is smooth and even. Just remember to rotate the handle clockwise.
Look Ma No Hands! If you purchase the motor, you don't have to clamp it to the table to operate it.
What Are the Bad Things About The Dream Machine?
The price is the real killer for most of us. Paying almost $900 US for something that looks in pictures like just a wider version of an Atlas polymer clay pasta machine with a motor is difficult for many of us to accept.
But we polyclayers often forget just how inexpensive our craft is. Have you priced out pottery kilns lately? We're talking thousands there. Plus, you'll put less clay in your 'scrap' pile because the machine's so quick and easy to clean.
Easy To Buy, Hard to Get The major problem with this machine is not the cost. It's the availability.
Polymer Clay Express/ArtWay only initiates a production run if they've received 100 orders. You pay a 50% deposit when production starts and 50% before your unit's shipped.
Once there's enough interest, it takes 4 to 5 months before machines are delivered. You could be waiting a year between ordering and when you finally get it. Most people are not this patient, so fewer people order them. Check the polymer clay Dream Machine Facebook page for how many have been ordered so you can estimate/take a guess at how soon you can expect delivery. 
So Is The Polymer Clay DREAM Machine Worth Your Money?
This ArtWay model from Polymer Clay Express is a professional level polymer clay pasta machine that is a good value in spite of its hefty price tag. The worst thing about it in my opinion is that it's easy to buy, but hard to get delivered. But if you're serious about your craft and want a true artist's tool, buy the polymer clay Dream Machine.
---
Do You Want A Polymer Clay Dream Machine?

Or if you have one, speak up here. Your story could help someone else!