Don't Let Your Old Rolling Organizer Almost Kill You Too! 

Choose a Great Traveling Craft Storage Container Before It's Too Late...
My diy rolling organizer spilled in the street. I think that it's time to buy a good craft caddy/tote to keep my beads, jewelry making, polymer clay and scrapbooking supplies safe. Even though I'm cheap, I'm not stupid enough to risk playing in traffic again to retrieve my tools!
After lots of research I think I've found a good rolling toolbox. But I'm not sure, tell me what you think. I need some input before I make my final purchase.

What to Look for in a Craft Tool Organizer With Wheels?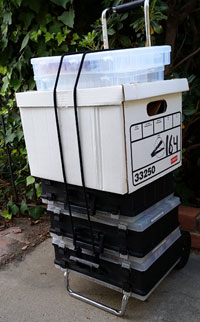 I decided that I had to set some basic criteria.  And they definitely weren't being met by my old my old craft caddy arrangement!
I have to admit that it was one of my brilliant cheap organizing ideas - a Rube Goldberg contraption made with duct tape, a cardboard storage box, several smaller polymer clay safe divided plastic storage containers, a rickety grocery cart and bungie cords. Try not to laugh too hard! 
My new craft travel bag requirements are that they be:

Affordable
Durable - no collapsing in the street!
Polymer clay won't dissolve the plastic - also a darn good thing!
Able to haul at least 50 pounds of supplies and tools
Reconfigurable - breaks into several parts
After doing a lot of research I've come to the conclusion that you won't find sufficiently rugged totes at the big craft stores like Michaels. Go to your local home improvement store or search Amazon in the Tools and Home Improvement category. And my pick there is...
The Bodacious Bostitch BTST 19802 Rolling Tool Box
The Bostitch is made for hauling building contractor's tools but it's great for traveling to clay, beading, jewelry making and scrapbooking classes or conventions! Organize your craft items, and then head out to clay play day.
This rolling tool box can be separated into 2 parts: Overall measurements are 13.6 x 30.6 x 19.2 inches. Used by many polymer clay artists at retreats and classes and it would make a great rolling organizer cart for teachers too!
79% of purchasers gave it a 4 or 5 out of 5 stars on Amazon, with an overall rating of 4.2 out of 5.

Polymer friendly plastic - The plasticizers in unbaked polyclay can dissolve some plastics. This one's made with polypropylene that carries the #5 resin/recycling number 
Rugged construction - Heavy duty ball bearing slides on the drawers. The maximum load capacity is 70 pounds!
Wheels - 7 inch diameter with rubber treads to grip slippery surfaces
A Rolling Organizer with Drawers - the top two drawers open ALL the way and can be removed. With the dividers you'll be able to stash your beads and jewelry findings all the way to the back and still have access to them.
Bottom Tilt Out Bin - Big enough for 12" x 12" scrapbook papers or a pasta machine, clamps and a couple of books. This section is 15 inches wide, 8 inches high and 13 inches deep (from front to back). This feature alone makes it great for a rolling scrapbook organizer.
Sturdy handle(s) - There's the big back handle that you use when you're rolling. One on the top detachable toolbox. And there's another on the bottom 2 drawer/bin section.
Airplane friendly - Almost. It divides into two sections with handles. Both of which will work for check-in baggage. The drawers on this rolling organizer all have good latches so they won't fly open unexpectedly. But they can be easily opened by airline security.. 
Does it lock? The top toolbox has a place where you can put a lock if you want to take it as carry on luggage on an air flight. That's just in case you have some items that would be hard to replace if they went missing.
This Wheeled Craft Storage Container Won't Bust Your Budget!

The Bostitch 19802 prices have been fluctuating a lot. I think it depends on trade wars and tariffs. So keep checking the latest sales prices your patience might pay off.
I think that this will make my crafting travels less stressful and definitely safer. Maybe yours too! Do what I'm going to do, get the Bostitch BTST 19802 Rolling Tool Box for yourself. Put this rolling organizer on your birthday or Christmas wish list. 

---
What do you think about this rolling organizer? Do you know of a better one?