How Do You Start ColorMixr™ and Get Your Colors Fast?



Getting started with ColorMixr™ is easy. You'll be creating Fimo and Premo! Sculpey color mixing recipes from your favorite photos, clothing, nature and the world around you in no time. Just keep reading.
If you have other questions go to the User Guide Index/FAQ. 
How Do You Start ColorMixr™?
1) Install ColorMixr™ from the Apple App Store or Google Play store.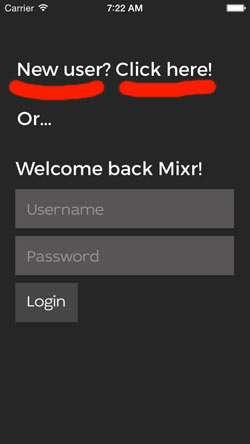 2) Click to open the ColorMixr™ app if necessary. Give it time to load, there are  thousands of polymer clay color recipes!
3) Login screen: You're a new user, so click on the NEW USER link
4) Fill in your User information. So that your recipes stay up to date, keep the YES showing for updates.
5) Your "My Palettes" library screen appears. 
---
You're at the "My Palettes" screen. Now what?

Click on this icon to the right of "My palettes" for a menu with these choices: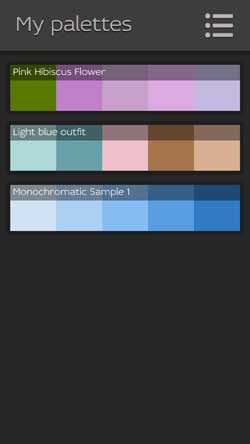 Image from gallery - Move the color selection circles to pick colors from your favorite saved photos on the "Picture's palette" screen. Once you've chosen your colors, tap the Menu Icon at the upper right hand side of the "Picture's palette" screen to find the "Save" option.
Image from camera - opens your device's photo taking utility. Then take a photo using your camera and pick your favorite colors by moving the selection circles over the colors you are interested in. Save your palette by tapping the Menu Icon at the upper right hand side of the "Picture's palette" screen to find the "Save" option.
Mixing wheel - choose colors and change them using classic color theory schemes. Or just spin the little color selection circles around and around...Discover how get the most from this option at this link.
Record new color - opens the camera. Take a picture of that amazing shade that you just mixed up. Then record how you did it so you never forget! More on how to use this function here. 
Settings - choose your preferred clay brand (Fimo Professional or Premo! Sculpey). Or change your favored language to either English or Russian.
Help - brings you to this page on the website.
Or Click on a Palette and you'll get a color recipe Palette screen like the "Pink Hibiscus Flower" example below: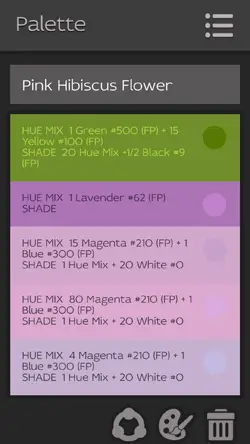 ---
---
Put your question right here!
Or tell us how we can help you...