ColorMixr™ User Guide - Part 1

Tips & Tricks to Create Great Polymer Clay Colors Fast 



ColorMixr™ instantly generates Fimo and Premo! Sculpey color mixing recipes from the world around you. Don't have it yet? Find out more here.
Once you've downloaded the app the instructions below will answer most of your questions. If not, we are available to answer them pronto. Contact information is below in the "Troubleshooting" section.

General Questions
READ THIS IF YOU DON'T READ ANYTHING ELSE
All the recipes have been scanned after baking. And that the colorimeter was set to scan at light levels comparable to diffused natural daylight. 
So do not jump to conclusions about that color sample that you just made. Bake a sample first. Then view your baked color sample during the day, around noon is best. 
COLORMIXR BASICS
BRANDS and COLORS NEEDED
YOUR CUSTOM COLOR MIXES
Troubleshooting
Special note for Apple iOS users; If you have questions please use this link or the Facebook Comment box below. Apple has made it impossible for developers to respond to ANY comments and questions left in the App Store rating comments.
---
How do you put together your color recipes?
What's a HUE MIX and a SHADE?

Abbreviations you need to know: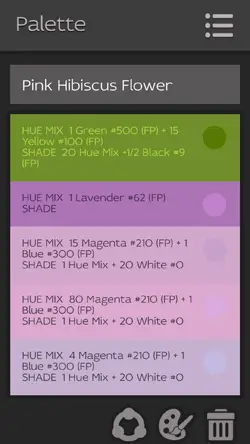 (FP) - Fimo Professional
(FE) - Fimo Effects
(PS) - Premo! Sculpey
(PA) - Premo! Accents
Color blending is a two stage process that I quite frankly swiped from the Fimo Professional directions.
First, you blend the HUE MIX. Then, you tone the HUE MIX by adding either black or white.

STEP #1: Make the HUE MIX:
Roll out Fimo or Premo! Sculpey sheets of equal thickness on your pasta machine for each color of clay in the ColorMixr™ recipe.
Cut out the required number of units in each color to make the HUE MIX. Use the the same cutter for all colors! (see video below)
Mix the clay color cutouts together thoroughly to create the HUE MIX.
Put the HUE MIX through the pasta machine at the same thickness that you are using for the black or white sheets.
Use the shape cutter to cut out the number of HUE MIX units that you need for the final recipe result
STEP #2: Make the SHADE:
Sheet out black or white polymer clay at the same thickness that you used when you cut out your HUE MIX units.
Use the same shape cutter to cut out the number of black or white clay units required for the final SHADE instruction.
Blend the HUE MIX units together with the black or white units.
Congratulations. You've mixed your first ColorMixr polymer clay color recipe.
Save your palette by going back up to the Menu Icon in the upper right hand side of the screen. 
If you're into video instruction, Staedtler posted a terrific video explaining the process on YouTube.
---
I forgot my Username or Password! 
We can find your username, but we don't store passwords.
Some people use the same password for EVERYTHING and we need to protect them from themselves! For security reasons passwords are processed with a one way hash function. So we can only compare user passwords but we don't know them. 

We are in the process of creating a recovery tool that will use a valid mail account to sent a new generated password. But it's not ready yet.

But we can change your password by hand.

Email Nancy at [email protected] with the subject line "Forgot ColorMixr Username or Password". Use the email address that you used for registration. If you can't remember just give me your name and we'll try to figure it out.

Please give me at least 8 hours to respond. I've got to sleep sometime...
---
Importing an "Image from Gallery" and/or "Image from Camera" isn't working
---
Put your question right here!
Or tell us how we can help you...