Make Your Packaged Premo Sculpey Colors Look Fabulous in 1 Minute With These Color Combinations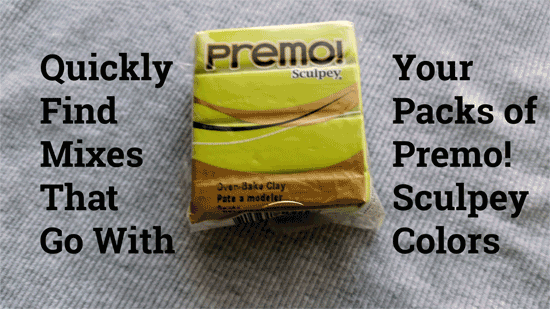 Go from plain packs of Premo! Sculpey colors to great combinations quickly. Find good looking polymer clay color schemes for almost all shades of Premo Sculpey and Premo Accents. No guessing. No tedious trial and error mixing. No waiting to see how the colors will look together after baking. No kidding. ;)
Download ColorMixr™ for Polymer Clay
If you haven't already, download ColorMixr™ for Polymer Clay to your iPhone, iPad or Android device. This will add on about 3 minutes. Don't worry, you don't need a credit card to download and try it.
Easy Step-by-Step to Colors that Look Great With That Package of Premo! Polymer Clay
Pick Your Base Color
Then follow the steps below. They aren't as complicated as they look. And they really will take you less than 60 seconds.

Open ColorMixr™
Tap on the Main Menu (3 lines at the upper right hand side of your screen)
Select Help from the bottom of the menu
Scroll down to the "BRANDS AND COLORS NEEDED" section
Tap on "Premo Color Combinations" (that's this page)
Open the search box below
Pick the Premo color package name.
Tap GO.
Take a screen shot of the polymer clay color swatch. Hold down the HOME button and the power button at the same time until you see the screen flash or hear a click. 
Switch back to ColorMixr™
LOAD YOUR PREMO COLOR SCREEN SHOT

Go to the Main Menu again and select "Image from gallery"
Find the screen shot of your Premo packaged color sample
Move all the circles over the color swatch
Go to Menu and Save
Go to Menu again and choose "My palettes"
Name the Palette, don't get creative here. Just use the Premo color name.
Find Your 8  Premo Sculpey/Accents Color Combinations
When you open the palette, you'll notice that the color recipe for your chosen color probably does NOT contain your packaged color. That's because the color samples in ColorMixr™ were made from 8 basic mixing colors and the system finds the closest recipe to your packaged Premo from within that set.
So don't worry about that. You named the palette with the package color name so you know the color you're trying to find combinations for. 
Open your new palette and scroll to the bottom of the screen
Choose the "Mixing wheel" icon at the bottom left of your screen
Go to the top of the screen and tap the gear or sprocket shape to reveal the Color Scheme Generator
Choose from one of 7 color schemes:
Custom
Analogous
Triadic
Monochromatic
Complementary
Split Complementary
Double Complementary
Now SAVE Your Chosen Color Scheme
Go to Menu and select Save
Go to Menu again and select your new palette.
Tap to reveal the beautiful color recipes that are going to make you look good. Remember to swap the middle color recipe for your packaged color name.
Start creating!
---
NOTE: What Colors Don't Work and Why?

Finding color combinations for colors that are very close to black or white isn't going to work with this method.
ColorMixr™ tries to find palettes of colors that have the same relative value (from black through grey to white) of the color that you've chosen as the base for your color palette. For instance, if you've chosen a color with a value that's very close to white, all of the other colors in the palette will also be white. Not too exciting a color combination, right?
So choose a package of Premo polymer clay that's not: 
Black
White
Frost White Glitter
Pearl
Translucent
White Translucent

or Twinkle Twinkle
---
Color Chart Showing All Premo! Sculpey and Accents Packaged Colors
Here's large color samples of all the available packaged Premo! Sculpey and Premo! Accents colors that are manufactured by Polyform. 
---